Looking for a one-time purchase? Enjoy these best-selling, hand-selected sampler packs. A perfect way to get started on our favorite Daily Caller Wines.
Special Limited Time Offer: NO CHARGE for Shipping on Wine Orders of 6 Bottles or More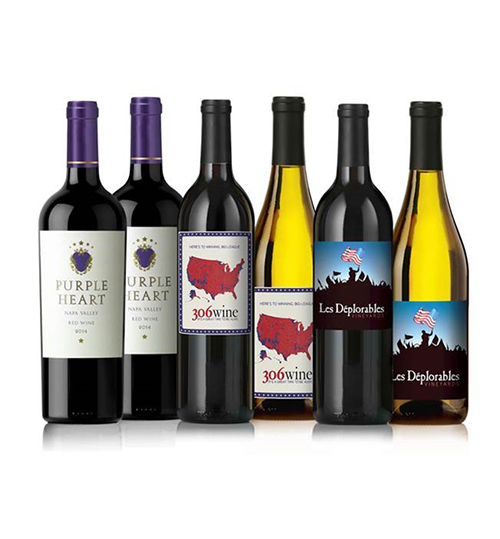 An absolute must-have for every conservative wine lover. We've included a Cabernet & Chardonnay from the popular Les Deplorables and 306 wines, to help you celebrate victory and a reminder of the number of electoral votes that President Donald Trump won. Also in the sampler are 2 bottles of Purple Heart Napa Valley Red, a wine made by veterans that benefits the unmet needs of veterans.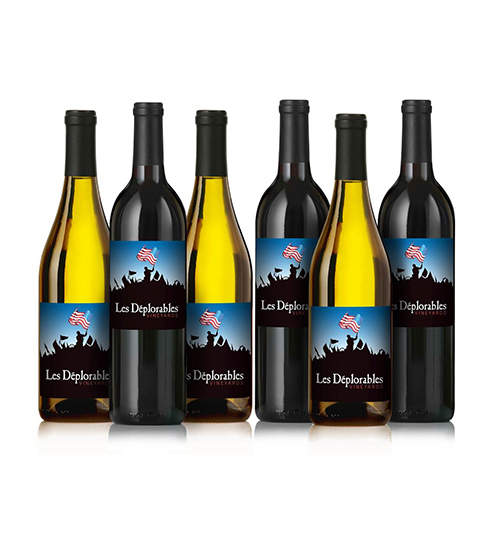 Buy for yourself to celebrate your victory with emphasis. Or give as a gift to your favorite fellow Deplorable. Even better, send some as a cheeky gift to your progressive friends who you know will just love it. All of this in a great value, 3 bottles of high quality Central Coast Cabernet Sauvignon and 3 bottles of exceptional Chardonnay.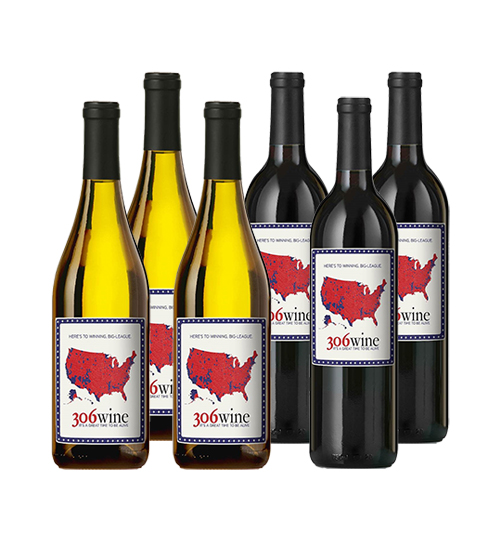 Presenting 306 Wine-a reminder of the number of electoral votes that President Donald Trump won on November 8th, 2016. Your trophy for your victory in the great election of 2016 has arrived. When dawn broke, our flag was still there and we turned our map red. Hard fought? Yes. Time to celebrate? Oh yeah. Buy some to drink and keep one for the mantel.
Daily Caller Wine brings two things together, support for The Daily Caller and a love for fine handmade premium wines. Through this unique partnership, we combine our love for wine with a collective buying power to create our exclusive membership club for our supporters.
By purchasing through the Daily Caller Wine program, you're joining the fight against left-wing bias in media. With the Daily Caller Wine, you're getting access to world-class wines at great prices, and you're helping raise the revenue necessary to sustain a truthful news site in an age where liberal media giants dominate both on air and in print.
Our goal is to introduce you to wines you may have never tried, supply your favorite wines at great prices, weed through the thousands of wines out there to narrow down to the very best of the best, and to provide you with these wines at the best prices.
Wine is essential to the Good Life.
We live in a time of astounding quality and variety of wines, blends, brands, flavors, in both imports and domestics. Our team of independent wine experts samples wines from all over the world and only selects the best wines and values for featuring in the club.
By joining this exclusive wine club, you can enjoy your wines without risk while knowing your purchases help fuel the fires of independent and relevant journalism so critical to our times.
Plus, each wine comes with a detailed tasting note from our wine buyers featuring insights into the stories behind the wine, what makes the wine unique, flavors and aromas, and delicious food pairing suggestions. From Cabernets to Pinot Noir to Zinfandel and more, there has never been a better time to explore the world of wine.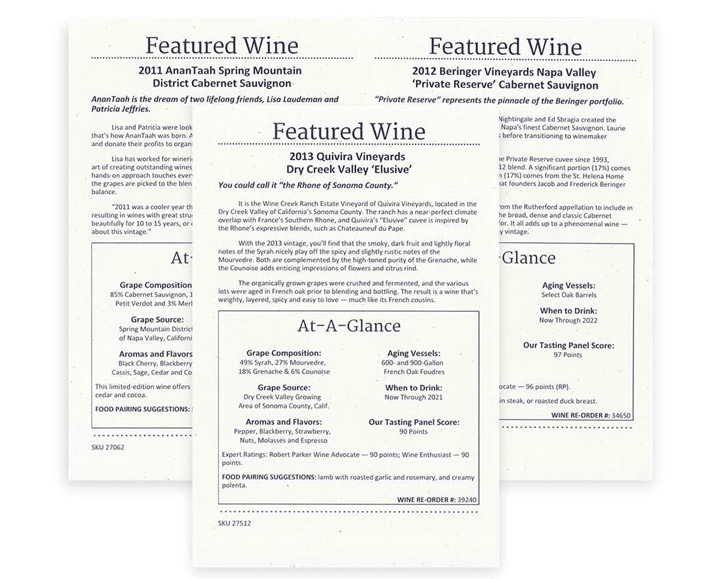 Hand-Selected
Our Selection Process
The Daily Caller Wine program draws on one of the most experienced wine teams anywhere in our industry.
Collectively our wine team includes over 10 people with more than 150 years of wine buying, wine judging, and wine-making experience and holds credentials from numerous wine organizations. We travel the world of wine and collaborate directly with the best suppliers here in the USA and abroad to select wines for the club.
We also believe wine tastes are uniquely individual, and personal preference is always a priority. We always ensure that member feedback and opinions from people who are not wine industry professionals, but are simply wine lovers, are an integral part of our process.
Delivered to You
Ahhhh....
Having your wine delivered to your doorstep is a distinct pleasure in life. You simply kick back and let the delivery company do the lugging. You sign for your shipment and unpack it like Christmas morning.
That's the easy part. But wine shipping is an art requiring advanced routing and environmental controls to ensure the wine arrives in the same pristine shape it is when it is shipped, safe from damage from heat in the summer and cold in the winter. We use only shipper-approved insulated and impact-resistant packaging that gets the precious cargo safely to you. A signature upon delivery provides the peace of mind that the journey is complete.